Published:
Friday, July 23, 2010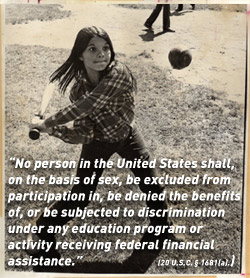 This week a federal court in Connecticut issued a ground-breaking decision in a Title IX athletics case brought by the ACLU against Quinnipiac University. Title IX is the landmark legislation passed in 1972 which prohibits educational institutions from discriminating against students based on sex. Title IX applies to all aspects of educational programming, including extracurricular athletic programs.
The district court is the first court in the country to consider and rule on whether a varsity activity – in this case, competitive cheerleading – can be treated as a sport for purposes of Title IX. As part of its ruling, the district court also had to consider and define what constitutes an athletic participation opportunity for purposes of Title IX.
After conducting a week-long trial and hearing evidence from students, coaches, university officials, and experts, the district court concluded that competitive cheer cannot be counted as a sport for purposes of Title IX. In reaching its decision, the district court considered "[w]hom a team plays against, how often the team plays, under what conditions competitions are held, and how a champion is eventually selected." The district court also found that for a participation opportunity to be considered a genuine athletic experience for purposes of Title IX, the opportunity must be "real, and not illusory."
Universities and school districts in the past have tried to count their competitive cheer programs as a sport, as a way to avoid providing full equality of opportunities for women and girls. The court's decision will put a damper on this practice.
Prior to trial, the Civil Rights Division of the U.S. Department of Justice submitted a helpful friend-of-the -court brief addressing what constitutes a sport for purposes of Title IX.