Published:
Tuesday, July 31, 2012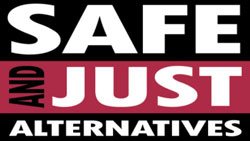 This article first appeared on the blog of Safe and Just Alternatives, a campaign working to end capital punishment in our state.
At the age of 16, my boyfriend Jason Baldwin faced the death penalty for a crime he did not commit. Twice offered leniency in exchange for testifying against his best friend, Jason – without hesitation – refused both deals. Had he taken the second deal, he likely would have been released on good behavior within roughly two years.

Instead, he ultimately received a sentence of life without parole; his best friend Damien Echols, then 18, was sentenced to die at a maximum security prison in rural Arkansas. Along with another young man, Jessie Misskelley, Jr., they became known as the West Memphis 3. They were convicted despite the lack of any physical evidence or plausible motive linking them to the crime. It is no small miracle that the support of hundreds of thousands of people, literally across the world, led to the release of Jason, Damien, and Jessie 18 years after the West Memphis 3 were first incarcerated.

When I first read about this case in 2004, I had no idea how involved I'd become, and for how long. Even though these three men had already been incarcerated for 10 years by that time, I could never have imagined it would take almost that much longer for them to win their freedom (and even that was a bittersweet victory, under the "Alford plea" that required them to plead guilty even as they publicly maintained their innocence). There were so many days when we all wondered if they would ever be released, or if all of our rallying, letter-writing and protesting was futile.
But, ultimately, the intense public scrutiny of the flaws in the case – publicized in the award-winningParadise Lost documentary series – pressured prosecutors to agree to the plea deal. On August 19, 2011, Jason, Damien and Jessie walked out of an Arkansas court room free men.

Now living in Seattle, Jason and I have turned our attention to a different fight – the effort to end the death penalty in Washington. Each day, when I look at Jason, I see what might have happened to him had he been sentenced to death, and to Damien had he not been released. Damien was one of the fortunate ones. He most likely is not the only innocent person ever to walk the halls of death row; he is, however, the first to ever leave Arkansas's death row alive.
In fact, as I write this, a prisoner named Tim Howard languishes in the same supermax prison from which Damien was freed last year. Howard, like so many others, is kept there largely by sloppy, botched DNA testing and an unwillingness on the part of officials to admit they might have made a mistake.

Innocent men and women like these, and countless more who have taken the responsibility to transform themselves while incarcerated, are looking to you and me for help – for help to reform a system that has failed them, that failed Jason, that has failed all of us. So on the days when momentum is lacking, we should draw strength from these men and women. And please, please don't forget: the campaign to end capital punishment is literally life-saving work.