Published:
Friday, June 11, 2010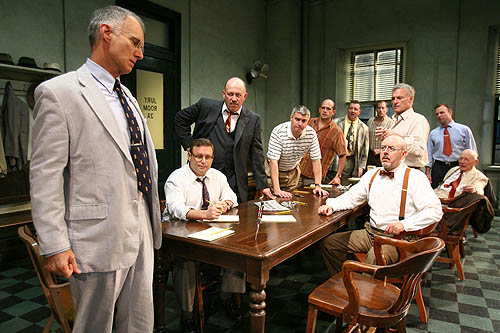 As Sentencing Law and Policy reports, the Equal Justice Initiative (EJI) has released a report entitled "Illegal Discrimination in Jury Selection: A Continuing Legacy." The report documents the disturbing extent to which racial bias in jury selection still occurs. The EJI press release about the report gets started this way:
Nearly 135 years after Congress passed the Civil Rights Act of 1875 to eliminate racial discrimination in jury selection, people of color continue to be excluded from jury service because of their race, especially in serious criminal trials and death penalty cases. …
The underrepresentation and exclusion of people of color from juries has seriously undermined the credibility and reliability of the criminal justice system, and there is an urgent need to end this practice," said Bryan Stevenson, EJI's Executive Director. "While courts sometimes have attempted to remedy the problem of discriminatory jury selection, in too many cases today we continue to see indifference to racial bias."
During two years of research in eight southern states (Alabama, Arkansas, Florida, Georgia, Louisiana, Mississippi, South Carolina, and Tennessee), EJI interviewed over 100 African-American citizens who were excluded from jury service based on race and reviewed hundreds of court documents and records. EJI uncovered shocking, present-day evidence of racial discrimination in jury selection.
The New York Times reported on the study and also published an editorial calling for renewed action to remedy this problem.
Biased jury selection is not a problem unique to the South, however. In two Washington cases the ACLU of Washington has filed friend of the court briefs involving this problem. In 2007, in a case arising out of Pierce County, we explained why the exclusion of even one person of color in the jury selection process raised concerns about the constitutionality and fairness of the criminal justice process. The Washington Supreme Court agreed that the striking of one minority juror could be enough to require an explanation, but found no racial bias.
In 2009 the ACLU of Washington filed another brief challenging the exclusion of an African-American juror in a second case from Pierce County involving an African-American defendant. Again, we explained that excluding the last remaining juror of the same minority race as the defendant was sufficient to require an explanation, so the court could determine if racial bias was involved or not.
In the second case, the Washington Supreme Court agreed that "going forward," an explanation would be required in this situation.
It remains to be seen whether this improvement in Washington's jury selection process will root out once and for all the kind of racial bias shown in the EJI study.