Published:
Friday, September 17, 2010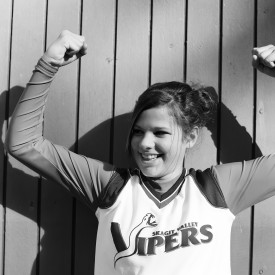 I watched the Storm's championship-clinching game last night with my 11-year-old daughter. To her it was an exciting game, to me it also was a political event. I've been a Title IX advocate for 25 years, and I still can't contain my sense of accomplishment when I see prominent coverage of women's sports. (And I still sometimes get choked up when I see a team of girls swarm a soccer field or a basketball court).
Not surprisingly, my daughter doesn't get it. She plays in fall and winter basketball leagues, and, when the time comes, she will try out for her very competitive school team along with dozens of other girls. She sits at the breakfast table nonchalantly reading the Seattle Time's lead story about the Storm victory while I exclaim, "Look at that, women's basketball on the front page!"
As you may know, Title IX is the landmark federal law barring discrimination in federally funded education programs. Since Title IX became law in 1972, we have seen a 900% increase in the participation of girls in school sports. That kind of progress is unprecedented and certainly worth celebrating, along with the Storm's thrilling victory.
Yet, I'm also struck by the stories I still hear of the discriminatory treatment of girls' teams. Just last year, the ACLU-WA fought to stop a school district from moving its girls outdoor soccer season to the winter – just so its boys soccer team wouldn't have to share "their" field with the girls. We heard from a district where the high school pep rally was just for the boys' basketball team and the girls weren't even introduced. We regularly see girls' softball teams playing on substandard and even unsafe fields while the boys' baseball teams play on brand new, well-maintained fields with all the amenities. In short, girls' programs are still under-funded and under-supported by their schools and their communities.
These inequities send a powerful message to girls that their sports are second-class, and they set the stage for girls to expect and accept less.
So let's celebrate the Storm's victory and all the progress it represents. And let's stay vigilant and keep pushing until girls are enjoying all the same benefits and opportunities as male athletes.
Here are some things you can do:
Ask your school for a copy of their most recent Title IX Self-evaluation Report (all schools are required by law to conduct an annual gender equity evaluation of their athletic programs but many still don't).
Check-out the ACLU-WA Title IX Guide, then evaluate your own school sports program to see if it complies with the law.
Learn more about the new Washington Fair Play Law that requires community recreational sports programs (e.g., Little League, adult rec programs) to provide equal support and opportunities to male and female teams.
Invite the ACLU-WA to present a Title IX Athletics Workshop in your community.
Call the ACLU-WA if you think there are violations of Title IX in your area.