Published:
Thursday, October 4, 2012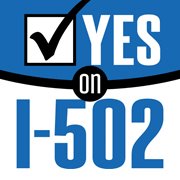 "GOP Senate hopeful latest to endorse legal pot" proclaimed an Associated Press report carried by media statewide yesterday. It came after Michael Baumgartner, the Republican candidate for U.S. Senate who is a state senator from Spokane, announced that he is supporting Initiative 502 – citing his experience as an advisor to a counternarcotics team in Afghanistan.
This was one of a series of promising developments for I-502 that we've seen in the past few days. Also yesterday, a featured column in the Seattle Times told of support for I-502 from King County Sheriff Steve Strachan, a former DARE officer. "King County sheriff makes case for pot" read the striking headline, with the bold subhead "Legalizing marijuana will be better for the kids, he said." Indeed, a couple days earlier, The Stranger had reported on Strachan vying with John Urquhart, his electoral opponent for sheriff, as to who more strongly backs the initiative.
The stances of these candidates reflect growing mainstream support for legalizing, regulating, and taxing marijuana for adults. Earlier in the month, the Children's Alliance, an advocacy group with more than 100 social service agencies as members, had given its vote of confidence to the initiative.
Now, I-502 is backed by leading papers from literally across the state. On Sept. 23, the Seattle Times presented a ringing endorsement of I-502 and even devoted an entire page of its Sunday edition to the issue. That same day, our state capital's daily paper, the Olympian, issued its own endorsement: "Initiative is a step toward making sense of marijuana laws." This past Sunday, the Columbian, the daily in Vancouver (the state's 4th-largest city), weighed in: "Initiative 502 offers the chance to abandon prohibition as a lost cause." It was soon joined by an endorsement from Spokane's Spokesman-Review, the main daily in eastern Washington.
And for a thorough yet personal look at the campaign, be sure to check out "Pot Mama" – Nina Shapiro's recent cover story in the Seattle Weekly profiling Alison Holcomb, who is on loan from the ACLU-WA to serve as I-502's campaign manager.