News Release:
Monday, April 3, 2017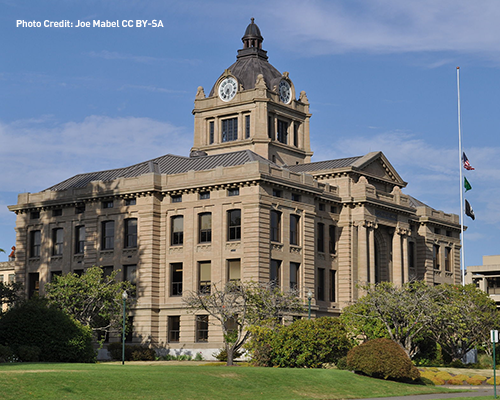 Everyone in America has the constitutional right to due process and to adequate legal defense in court, and children are no exception.

This is why the ACLU of Washington today has filed a class-action lawsuit against the Office of Public Defense (OPD)— the state agency responsible for public defense in Washington— for failing to enforce minimum standards of public defense in Grays Harbor County.

The lawsuit asks the court to declare that the public defense services that juveniles in Grays Harbor County receive are constitutionally inadequate, and to declare that OPD has the authority to take the measures necessary to ensure the provision of constitutionally adequate services.

"The Office of Public Defense is a highly competent agency dedicated to improving public defense in Washington," said Emily Chiang, Legal Director of the ACLU-WA. "But it has taken the position that it lacks the authority to provide meaningful supervision and oversight of county public defense systems."

The Constitution guarantees that if you are facing prosecution and cannot afford a lawyer, the government must provide one for you. This is supposed to ensure that, at a minimum, the accused person's lawyer provides them with actual advocacy, or as court cases have characterized it, "the crucible of meaningful adversarial testing." Actual advocacy by defense counsel is particularly important when the client is a child who has less knowledge of the law than an adult.

In Grays Harbor County, however, there is rarely investigation, adequate communication with clients, motions, trials, or other advocacy of juveniles' rights. The lawsuit asserts that OPD is well aware of these practices, which are far from adversarial proceedings.

Juveniles suffer serious and ongoing harm as a result of these and other violations of their constitutional rights to adequate legal defense and due process. For example, a 15-year-old was kept incarcerated while serving a sentence for probation violations that was 120 days, four times the length allowed by statute, and an 11-year-old child has spent two months in the Grays Harbor Juvenile Detention Center without a hearing to determine whether the presumption of lacking capacity to commit a crime, based on her age, has been overcome.

Moreover, OPD is aware of numerous unacceptable practices in the County's juvenile public defense system: children are routinely held in detention on bail amounts that are not challenged by the public defender; receive inadequate confidential communication with their attorney; receive inadequate advisement of rights, options, and consequences from the public defender; fail to receive adequate investigation of the facts, release options, and sentencing options; fail to have their rights protected through motions and trials and the use of expert witnesses; fail to have their rights protected when interrogated by the court; and plead guilty when legal defenses are clearly present.

The U.S. Supreme Court, in Gideon v. Wainwright, guaranteed all people facing prosecution the right to a lawyer, regardless of their ability to pay. And almost exactly 50 years ago, on May 15, 1967, the Supreme Court extended that right to children. Courts have since recognized that the right to counsel is even more important for children than adults because children generally cannot advocate for their own legal rights or make decisions about what is in their best interest without guidance. State law requires legal representation for children "at all critical stages of the proceedings," including any proceeding in which the child faces the possibility of being confined.

The responsibility for ensuring that each person facing prosecution who cannot afford a lawyer is provided one rests with state governments, courts across the country have recognized. OPD's mission is to "implement the constitutional and statutory guarantees of counsel and to ensure the effective and efficient delivery of indigent defense services funded by the state," according to its website.

"Everyone in America has a right to an attorney, and when that right is violated, the state must take action," said ACLU-WA cooperating attorney Theresa Wang. "The lawsuit asks the Court to make it clear that it is the responsibility of the Office of Public Defense to ensure that no one in Washington is denied their constitutional right to due process and independent legal counsel in court."

Plaintiffs in the case are K.B, an indigent juvenile who has been charged with an offense in Grays Harbor County Juvenile Court and was assigned a public defender; Colleen Davison, legal guardian of K.B., and Gary Murrell, a longtime resident of Grays Harbor County who pays taxes to both the County and the State of Washington.

Representing the plaintiffs are ACLU-WA attorneys Nancy Talner and Breanne Schuster, and ACLU-WA cooperating attorneys Theresa Wang and Mathew Harrington of Stokes Lawrence.