News Release:
Friday, January 22, 2010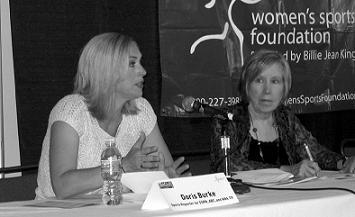 On July 31, 2007 the ACLU of Washington and the Women's Sports Foundation sponsored a panel discussion before the Seattle Storm game to celebrate the 35th anniversary of Title IX. Panelists looked at femaleathletic participation, treatment, and support.
TVW taped the panel, and it is available to watch at http://www.tvw.org/. Panelists were:
Karen Bryant, Seattle Storm Chief Operating Officer
Doris Burke, ESPN, ABC and NBATV Sports Reporter
Mike Colbrese, Washington Interscholastic Activities Association Executive Director
Tia Jackson, University of Washington Women's Basketball Head Coach
Jeanne Kohl-Welles, Washington State Senator
Moderator: Sarah Dunne, ACLU of Washington Legal Director
Enacted by Congress in 1972, Title IX bans discrimination based on sex in education. It has resulted in dramatically greater opportunities for female athletes in school sports. Since the passage of Title IX, the number of females participating in high school athletics increased from 294,015 to 2,956,358.
Panelists explored how far female athletics have come under Title IX. When Senator Kohl-Welles was in high school, the only athletic opportunities for girls were intramural sports. Karen Bryant, Tia Jackson, and Doris Burke all had the benefit of Title IX, but they were pioneers in their fields, with Coach Jackson playing in the inaugural season of the WNBA and Bryant involved behind the scenes in professional women's basketball. Colbrese discussed the emerging sports for girls, including wrestling, lacrosse, equestrian, and water polo.
Despite the gains in female athletics, the panelists noted that discrimination continues to exist. Senator Kohl-Welles and Colbrese see it primarily in the facilities, noting that many schools were built before Title IX and as a consequence they were not built to include softball fields or even girl's locker rooms. All the panelists noted that male and female athletics are treated different. Female athletics are not valued in the same way as male athletics. As a consequence, fewer people attend games, and female sports receive a dramatically small percentage of media attention.
Even though pervasive and systemic discrimination continues, the panelists expressed hope about the future. Female athletes and their supporters continue to fight for equal access to athletic opportunities and equal treatment while taking advantage of those opportunities.
The momentum continues to build as girls today have role models like Storm player Lauren Jackson, whom many consider the best women's basketball player in the world. Even if they never dream of playing professionally, they still benefit from seeing someone who looks like them moving powerfully on the basketball court and receiving the support of thousands of fans chanting "M-V-P." Athletes like Karen Bryant and Tia Jackson paved the way for women like Lauren Jackson, who are in turn paving the way for young girls. The future should see still more growth and support for female athletics.