News Release:
Friday, November 30, 2012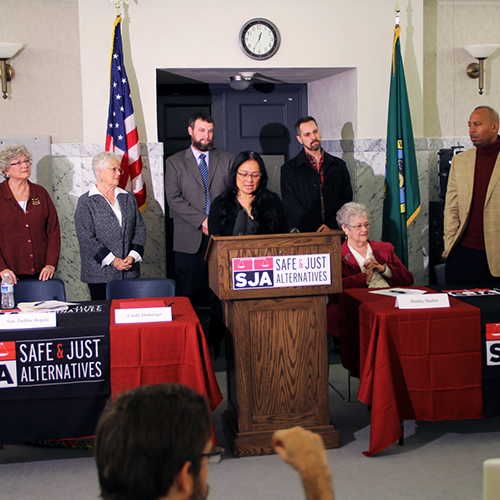 Senator and Other Murder Victim Family Members Call for Ending Washington's Death Penalty
Cite wasted resources and impact on victims' families as reasons to replace capital punishment with life in prison without parole
Olympia -- Senator Debbie Regala (D-Tacoma) and others who lost family members to murder urged the Legislature today to enact legislation that would repeal the state's death penalty and replace it with life in prison with parole. They spoke at a press conference at the State Capitol.
The family members of murder victims emphasized that the death penalty is a broken and costly system that fails to offer closure to victims' families or to serve as deterrent to future crimes: "Does the death penalty bring back my family member? The answer is no. Did existence of the death penalty prevent that crime? Obviously not. And would continuing the death penalty prevent future murders? Again, the facts would indicate no," stated Senator Regala, who is retiring from the Senate next month after representing the 27th District for the past 18 years. "Does the necessary legal process in pursuing the death penalty divert funds that could be used to focus more efforts on prevention? The answer is yes," added Regala.
Karil Klingbeil, whose sister Candy Hemming was murdered by Mitchell Rupe in 1981, said her attitudes about the death penalty have come full circle after experiencing the harm that a prolonged capital case had on her and her family. "Had Rupe received life without parole after the first trial, my family would have been spared 20 years of additional suffering. We would have been able to honor Candy's memory and begin the healing process." Klingbeil says that she now supports lifetime incarceration as the most severe punishment for murder.
Aqeela Sherrils, whose Terrell son was killed in a random shooting in 2004, is board member of a national organization of victims' families working to end the death penalty. He explained the different reasons that family members oppose the death penalty: "Some family members were supporters of capital punishment, until they had to endure the pain and suffering associated with a long, drawn-out death penalty case. Now they feel that greater attention should be focused on the needs of victims and helping them heal. Others have been denied justice altogether: No one has ever been prosecuted for the murder of their loved one. They see resources that could be spent investigating unsolved crimes wasted on death penalty cases instead."