News Release:
Friday, November 20, 2009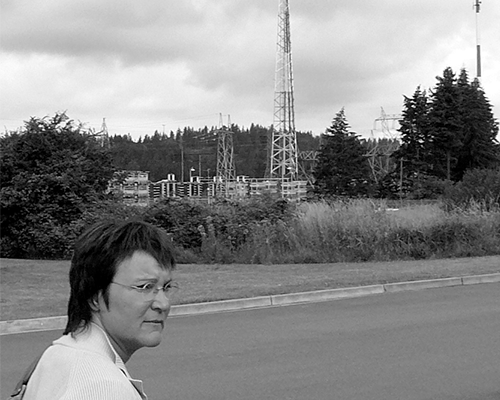 A University of Washington professor who was frisked, handcuffed, and detained for taking photographs of power lines as part of an art project has received a payment of $8,000 in a settlement of her lawsuit against the City of Snohomish. The ACLU of Washington represented Shirley Scheier in seeking redress for her wrongful detention by Snohomish police.
The settlement came after the U.S. District Court in Seattle last year found that officers "lacked a reasonable justification for their aggressive tactics in completely restraining Scheier's personal liberty." Scheier's experience highlights a pattern of law enforcement officers harassing people engaged in taking pictures in public.
"Taking photographs of objects or people in plain view is not a crime. Police should not presume that it is a suspicious act, and should not overreact by detaining people for taking pictures," said ACLU-WA Legal Director Sarah Dunne.
Shirley Scheier is a 55-year-old artist and Associate Professor of Fine Art at the University of Washington who often uses photos of public land and public structures in her artistic prints. An exhibit of her work currently is showing at Richard Hugo House on Capitol Hill until June 21.
In October 2005, Scheier drove to Snohomish and stopped to take pictures of the power towers at a substation near downtown, from outside the facility's gate. She was on public property, and there were no signs indicating that photography was not allowed.
As she drove home on State Highway 9, Snohomish police pulled her over. More officers arrived soon, began to question her about her pictures and said her behavior was "suspicious." Scheier explained that she is a university faculty member interested in power lines as part of our ecosystem and cooperated with officers' requests.
Nevertheless, police frisked and handcuffed Scheier, and placed her in the back of a police car for almost half an hour. The incident was upsetting to Scheier, who as a professor was concerned that her students not have their rights violated when they went out to do field work.
In rejecting the city's motion for summary judgment which would have ended the case, the federal district court in November 2008 found that the officers' actions had likely violated Scheier's rights. "An individual's fundamental Fourth Amendment right to be free from