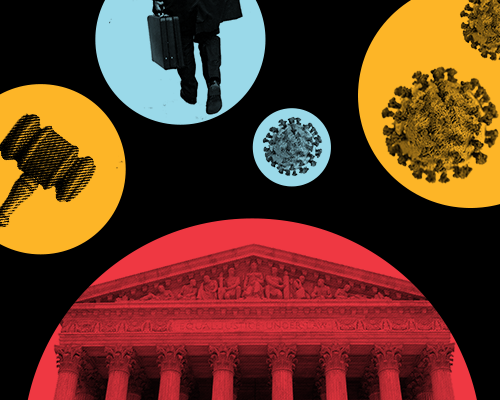 Updated:
Friday, April 3, 2020
Since the start of the COVID-19 outbreak in Washington state, we have been monitoring federal, state, and local responses to our current public health crisis. In coordination with local allies, our national ACLU office, and ACLU affiliates across the country, we have taken actions to assure that responsive measures from the government follow public health experts' recommendations and protect the health, safety, and civil liberties of all. In particular, we have aggressively advocated for those whose health, civil rights, and civil liberties are at heightened risk during times of crisis, including those generally unhoused, and housed in detention centers, jails, and prisons. To date, we have taken the following actions to promote the health, safety, rights, and liberties of all Washingtonians:

Defending immigrant communities
Along with the Northwest Immigrant Rights Project (NWIRP) and Columbia Legal Services (CLS), we sent a letter to U.S. Immigration and Customs Enforcement, (ICE) and The GEO Group, the private prison corporation that runs the Northwest Detention Center in Tacoma (NWDC), demanding a scientifically-sound plan to protect detained immigrants from COVID-19. Shortly after, ICE responded with a wait-and-see approach that endangered the health and well-being of individuals housed in NWDC.
We, along with the ACLU's national office and NWIRP, sued ICE and GEO to demand the release of immigrants who are at most risk of complications related to COVID-19.
We are educating the public about the federal government's recent announcement that U.S. Citizenship and Immigration Services (USCIS) will not apply the punitive "public charge" rule to people in immigration proceedings who seek testing and treatment for COVID-19, and the news that ICE will not take immigration enforcement actions at medical facilities.
Advocating for individuals dealing with homelessness and the housing crisis
We joined community partners in a letter asking Gov. Inslee and state officials to provide public health and housing assistance that helps those without shelter to get housing, practice social distancing, and have access to medical care and sanitation supplies. We have also asked for measures that keep people housed, like financial assistance to those in danger of losing their homes, as well as measures that mitigate harm to those living outside, such as redirecting efforts to providing outreach, services, and care, rather than displacing unhoused people.
Protecting the health of individuals incarcerated and working in Washington's jails and prisons
Together with Columbia Legal Services and 12 other allies, we sent a letter to Gov. Inslee and the Washington Department of Corrections advocating for measures to prevent the spread of COVID-19 through state prisons. These measures included releasing aging and medically compromised people, and those who are within six months of their release date, and implementing non-punitive social distancing for those who remain in custody. We also called for increased access to medical care and sanitation supplies and free remote visitation options.
Together with allies in Spokane, we sent a letter to Spokane City and County urging their courts to release those awaiting trial for all but the most violent offenses, a measure that would promote both public safety and public health by enabling social distancing and reducing exposure to COVID-19 in custody.
With the help of our allies, we also sent a letter to King County and Seattle government, law enforcement and judicial leaders pushing them to take immediate steps to protect the health of individuals in or facing the possibility of entering King County Jail. We call for increased use of alternatives to pre-trial incarceration and the release of individuals who cannot afford bail, those who are at high risk of medical complications, and those who have nearly completed their sentence. Recently, King County responded with this letter stating that many of our recommendations are being put into action. The number of people in King County jails has been reduced by over 600 individuals with the intent of further decreasing the total population until each person in custody is provided a single cell. We will continue pushing for additional releases, alternatives to incarceration and proper precautions to ensure everyone's health and safety.
Protecting Washington's Youth
Defending the health and rights of those in the criminal legal system
Together with our public defender allies, we sent a letter to the Washington Supreme Court along with a proposed order that would protect people who are not in custody from having to come to court and expose themselves to potential health risks while prioritizing the pre-trial hearings of those in custody awaiting trial. We continue to advocate for alternatives to pre-trial incarceration as a way to protect due process and civil liberties while also protecting people from the risks of exposure to COVID-19 in custody.
Working with the King County Department of Public Defense we asked King County Superior Court to suspend out-of-custody hearings during the public health crisis to protect those with upcoming court dates from potential exposure to the virus.
Monitoring the government's response
We are continually monitoring the actions of federal, state, and local government to assure that any response to this public health crisis is founded in science, is the least-restrictive option in regard to civil liberties, and is frequently revisited to assure that they last only as long as necessary for the public good.
We will keep this page updated as developments continue to keep you informed of the various ways in which we are advocating for the health and liberty of everyone in Washington state.