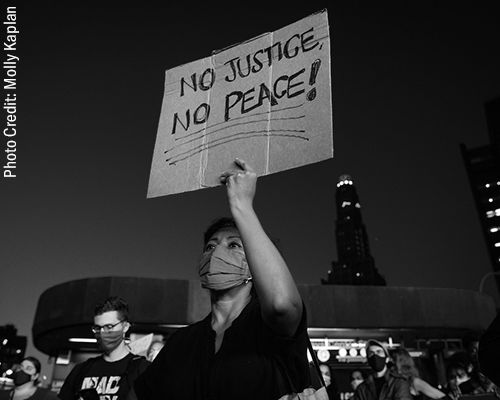 To date, this blog series has focused largely on upstream efforts to transform policing, reduce or prevent its harms, and create public safety for all. This blog post examines endeavors to make more robust the inquest process, a tool for holding police accountable and obtaining justice for bereaved families after police harm has already been done.
For years, community activists have called for an inquest process that would truly hold police accountable. Too often, inquests – investigations into the death of community members at the hands of law enforcement – are perfunctory exercises that result in an officer being absolved of all wrongdoing. The victims are disproportionately low-income people of color.
Over the past several months, as protests for racial justice have swept the nation, the meaning and importance of inquests have come into sharp focus in King County. At issue is the County's community-driven effort to create a fairer and more transparent inquest process. The new inquest process was announced in 2018 but is currently stalled by a number of lawsuits on both sides of the issue: law enforcement agencies and some cities in the county filed suits to try to dismantle the new process; families of loved ones killed by police sued to make it stronger. The suits, combined into one called
The Family of Damarius Butts, et al., v. Dow Constantine
, is now pending before the State Supreme Court. A decision is expected soon.
The families who sued are grieving the deaths of three community members killed by law enforcement in 2017: Damarius Butts, who was 19 and the father of a 1-year-old daughter at the time of his death; Isaiah Obet, who was shot in the head by Auburn Officer Jeff Nelson, who has since been charged with murder for killing a different community member; and Charleena Lyles, a pregnant mother of four, shot in front of her 1-year-old child.
In 2019, three separate inquests were convened to investigate each of their deaths. Attorneys from the King County Department of Public Defense (DPD) represent two of the families in the inquest process. La Rond Baker, DPD's special counsel for affirmative litigation and policy, and Adrien Leavitt, an attorney at DPD, represent Mr. Butts' family. Amy Parker and Susan Sobel, DPD attorneys, represent Mr. Obet's family. Corey Guilmette and Becky Fish from the Public Defender Association represent Ms. Lyles' family.
The families sued to add two key reforms to the inquest process – ensuring the inquest jury would have full evidence about the cause of the death, including the testimony of officers who killed a community member, as well as evidence of the officers' potential criminal activity, without violating officers' Fifth Amendment rights.
As the lawsuits progressed last year, the community rallied around the families' call for a stronger inquest system. A community letter, with more than 3,500 signers, was sent to city and county leaders in June, expressing outrage over the lawsuits by the law enforcement agencies and the cities and their efforts to derail a stronger and more transparent inquest system. Those jurisdictions' suits, the letter said, made the recent promises of racial justice "ring hollow." The City of Seattle, one of the jurisdictions that had sued, dropped its lawsuit while the letter was circulating.
A coalition of 32 community organizations, represented by Nikkita Oliver, a Seattle attorney and activist, filed an amicus brief in July in support of the families' lawsuits. Among the groups that signed as amici were the ACLU of Washington, COVID-19 Mutual Aid, Decriminalize Seattle, Africatown, Columbia Legal Services, Loren Miller Bar Association, and Casa Latina. "Until police stop killing Black and Brown people and until we as a society decide to defund and disband law enforcement agencies as we know them, anything less than full and transparent community-involved investigations of law enforcement's use of force on community members only serves to further exacerbate public concern regarding police brutality and stokes the fear of law enforcement in communities of color," Oliver said at the time of the filing.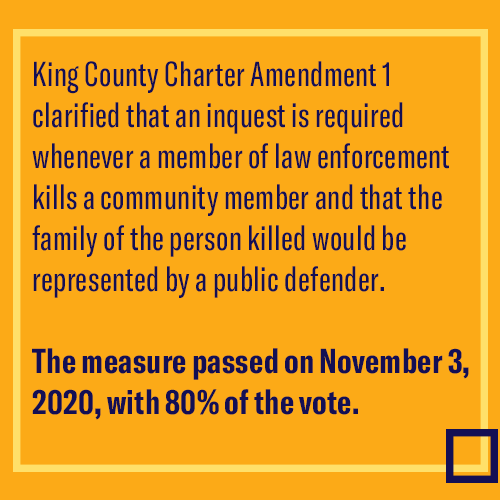 In August, King County Superior Court Judge Julie Spector ruled in favor of the law enforcement parties and struck down many aspects of the newly revised inquest process, effectively preventing any inquests from moving forward. Two months later, the State Supreme Court granted direct review. Numerous community groups then filed another amicus brief, explaining that the history and purpose of inquests support the new process and that ruling in the families' favor would provide the accountability that former inquest procedures have long denied BIPOC families. On January 19, 2021, La Rond Baker of DPD argued the case before the Supreme Court on behalf of all three families. She began by telling the Court about the three people killed by police in 2017, then highlighted the historical significance of the issue before them, what she called "this critical moment of our reckoning with America's longstanding practice of violently policing Black and Brown bodies and communities."
As the families await the State Supreme Court's ruling, community members continue to support them and their call for a fair inquest process. "Nothing will bring my son, Damarius, back to me," Ann Butts, the mother of Damarius Butts, said. "But a full, thorough, and fair public investigation into his death would at least put some of my questions to rest and allow me, his siblings, and his daughter to finish this part of grieving the loss of our Damarius."