Published:
Wednesday, March 24, 2021
By Rheta Rubenstein
Community Member and People Power Activist
When I retired in 2016 from teaching mathematics students in Detroit and future teachers at University of Michigan-Dearborn, I moved to southwestern Washington. I learned that I live on land formerly stewarded by Native American tribes of Chinook, Cowlitz, and Klickitat people. In fact, before colonization, this area had been a
multicultural hub of many languages and international trading
.
I was startled, however, to discover that unlike my life in Dearborn, with large African-American and Middle Eastern populations from a variety of religious and secular backgrounds, my new home seemed startlingly white. I missed the multiculturalism.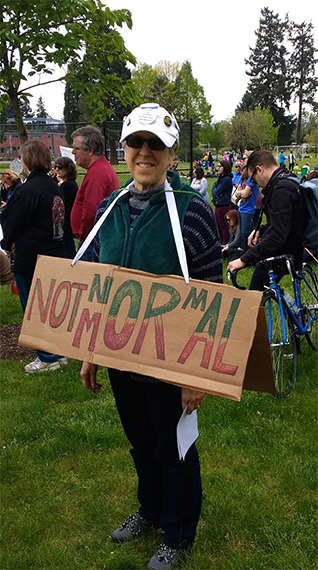 So, one of my goals became to meet people of different backgrounds. I discovered Race Talks in Portland where crowds assembled monthly to view a film or hear a panel and then engage in related facilitated table conversations. One night, at the follow-up discussion, a Black minister stood up and asked, "How are we going to educate youth so they don't grow up to be white supremacists?" That sat me firmly down and lit a fire in my belly.
Following the 2016 election, many of us thirsted for activism. I began attending meetings and marches, phoning electeds, and writing letters. I joined the League of Women Voters and NAACP. Then, in spring of 2017, the ACLU-WA launched People Power (PP). Our first PP campaign centered on Immigration and Customs Enforcement (ICE) and ensuring their separation from local police. I learned then about public documents requests and how to prepare for and present a case to public officials. Fortunately, the ACLU-WA provided the 'cheat sheet' of what agencies needed to do. Over many months, our team got the Vancouver Police Department and Clark County Sheriff's Office to align their immigration policies with the ACLU-WA list.
In Fall 2017, our PP group focused the confederate historic markers and flags on the west side of I-5 just south of Ridgefield. Along with a raft of other activists who spoke at the Clark County Historic Preservation Commission, we got the markers removed from the
historic registry
.
In mid-February 2019 I was shocked to read in The Columbian that a 16-year-old student, Clayton Joseph, had been killed by Vancouver police. I was shocked again, about 10 days later, when I read about a 29-year-old homeless man, Michael Pierce, also killed by police. "Why is this happening?" I wondered. And then in early March, I read that a 43-year-old Black man, Carlos Hunter, father of six children, had also been killed by police. I was reeling. How are these families doing? Where is the first principle of 21st Century Policing: Sanctity of Human Life?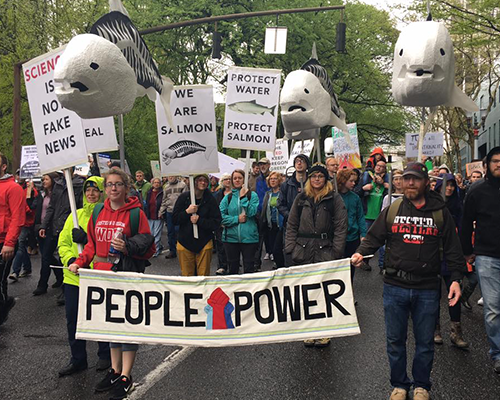 Following an NAACP meeting after these killings, a few of us met in a corner to talk to Vancouver Police Chief James McElvain. One woman said something like, "My son is 15. He looks like he's 22. He acts like he's 8. Can I bring him to your agency and introduce him to your officers?" In my mind I imagined the implied conclusion: "So they don't kill him." The Chief explained he has 200 officers and there are 100s of mothers who would like to do the same. He cannot. I thought but did not say, "So just quit killing people!"
I was also attending meetings of Showing Up for Racial Justice which held an event in response to these killings. I was awestruck by one woman who spoke passionately about what activists needed to do: protest, publicize, change policy, and partner with others. In under five minutes I learned a great deal about activism! I gave her and another person postcards with my email and asked them to be in touch. This was the beginning of an amazing team.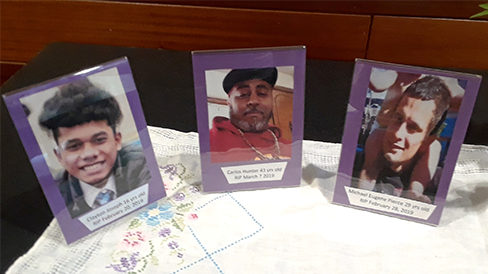 In summer 2019, our tiny group received a fortuitous gift. ACLU-WA Executive Director Michele Storms was coming to Vancouver for a Saturday NAACP meeting. It became a great opportunity to bring together local activists for dinner with her and served as a catalyst for solidifying our group.
That fall, another NAACP friend and advocate put our little group in touch with the sister of Carlos Hunter. Truth be told, I had qualms. What do I say to someone in such deep grief? What can I do? Where will this lead? But his sister, Nickeia Hunter, was a strong, candid, multi-tasking, amazing justice-fighter. I feel deeply fortunate to know and work with her.
Vancouver hired Police Executive Research Forum (PERF), a national organization that gives researched guidance to police agencies. They were to evaluate and make recommendations on the Vancouver Police Department's use of force. While not in the original plan, we got the city to arrange a meeting for the public to meet the PERF representatives during their site visit.
We also learned about I-940 activists from De-escalate WA coming to Vancouver to learn concerns about final details for the new law. Again, I was moved after hearing from an advocate, Fred Thomas, who had lost his son to police violence in 2013. I gave him one of my postcards. As a result, I learned about a state group, Next Steps Washington (NSW), that Fred and his wife Annalesa, had founded. In late November, three of our little team drove to the Criminal Justice Training Commission in Burien to testify in relation to the WA regulations that detail I-940's implementation. There, we met more state leaders.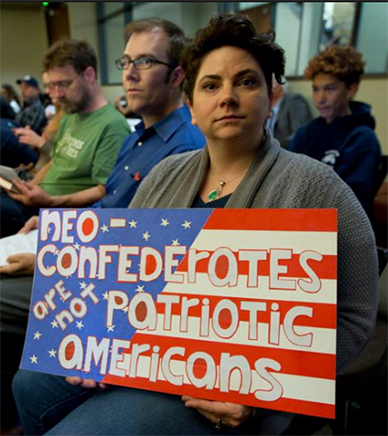 Through NSW we learned in early 2020 about folks working on legislation and have been able to meet with what has now become Washington Coalition for Police Accountability (WCPA). It has been an honor and a learning experience to work with seasoned activists led by courageous family members impacted by police violence.

Working with WCPA has involved deep social studies and is a high bar for me. I feel like I am in a graduate seminar, but never took the 101 class! I am working hard just to follow these legal eagles and strategic activists. There is much to learn.

Recently I joined the Criminal Justice team from the League of Women Voters Washington and learn much there, too. One excellent resource is the ACLU Power Up handbook with lots of valuable information for activists including the equivalent of 'Legislation 101.'

Locally, our tiny team continues to meet intermittently with local activists. We have discussed how to respond to a continuing string of law enforcement killings in 2020: April 28, William Abbe, age 50, a homeless man well known to many officers and having a mental health incident; Oct. 4, Andrew Williams; Oct. 29, Kevin Peterson, Jr. age 21 and father of a 4-month old daughter; and Jenoah Donald, 30. When does this end?

We have many current concerns. Here in Vancouver, we see disparate policing. When rallies are attended predominantly by white people, police are tasked 'to keep people safe.' But for the vigil for Kevin Peterson, when many Black people and BLM activists met to grieve, it was different. White vigilantes intimidated with large trucks, confederate flags, and guns, even pepper spraying guests. Police were not visible.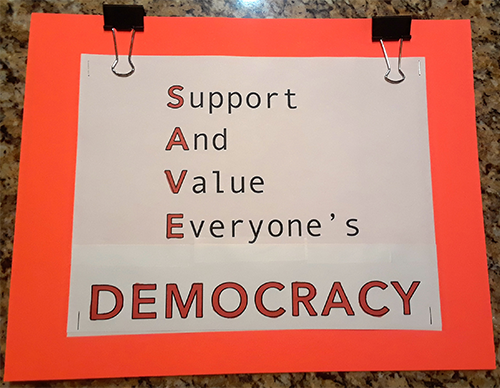 We are also concerned about the implementation of the PERF recommendations. If they appear in policy or training, how well will they actually be implemented? Genuinely or superficially? Will the killings end, or at least diminish? And what about other uses of force?

Of course, with WCPA we are being vigilant with the legislature, at the ready to write, testify, phone, demonstrate, or whatever is needed to pass our bills.

I still feel like an utter novice, but I continue to learn. I am deeply fortunate to have so many wonderful models. Our small team is eager to share and learn with and from others around the state.

One mentor, a former ACLU-WA board member, cautioned me early on, "Things take time. Don't expect quick results." His words echo frequently in my head. Friends and I persist.