Published:
Wednesday, September 28, 2016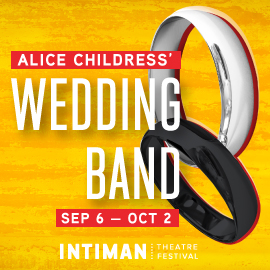 The ACLU-WA is cosponsoring the Intiman Theatre's production of Wedding Band: A Love/Hate Story in Black and White, running  through October 2 in The Floyd and Delores Jones Playhouse at The University of Washington. Alice Childress' groundbreaking play evokes a true story from the ACLU's own history.
Wedding Band, directed by Valerie Curtis-Newton, is the final production of Intiman Theatre's 2016 Festival, dedicated to great American plays by Black women. Set in 1918, it tells the story of Julia, a black seamstress, and her lover, Herman, a white baker living in a small South Carolina town. Julia and Herman plan to one day marry up North, but they have been compelled to keep their 10- year relationship hidden. Being honest with their community would be both dangerous and against the law.
The social machinery of the Jim Crow era upheld "anti-miscegenation laws," which had been in place since the rise of slavery. Anti-miscegenation laws criminalized sex and marriage for interracial couples until the U.S. Supreme Court struck them down in 1967 in an ACLU case, Loving v. Virginia. The ACLU represented Mildred Jeter, a black woman, and her childhood sweetheart Richard Loving, a white man.
Mildred and Richard's legal battle began in 1958, after they married legally in Washington, D.C. and returned to Virginia. The couple was charged with unlawful cohabitation, jailed, and sentenced to a 25-year banishment from the state of Virginia or a year in prison. The Lovings left the state to live with family in D.C., but upon returning to Virginia five years later, were once again arrested for travelling together. Mildred took the first of many steps that led to the U.S. Supreme Court when she wrote to Attorney General Robert F. Kennedy, who referred them to the ACLU.
Alice Childress wrote Wedding Band in 1962, and it became her most controversial play. Intiman's Amber Tafoya explains that many critics "failed to see its relevance." Though at the time, 17 states still barred interracial couples from marrying, many believed "the prohibition of interracial marriage was over, so the play was merely an unfortunate reminder of a bygone era."
The immediacy of Childress' work, however, is evident, not only in the context of history (Loving v. Virginia being a testament to that) but also of today.  The Seattle Times says Intiman's production of Wedding Band is "stunningly, immediately real" and the South Seattle Emerald calls it "profound, searing, and painfully relevant."  That a bygone era continues to haunt us is perhaps why many critics did not want to be reminded of it.  But that is why it is important for us to watch. Director Valerie Curtis-Newton puts it best: "Mrs. Childress is saying that we must be honest about our anger and our fear if we are to have a chance at creating community. Wedding Band reminds us that we can't move forward to enjoy the fruits of America's promise until we reveal and heal the pain of American's past."
Join us on October 1st for a special ACLU Night of Wedding Band. ACLU-WA Board member Jamila Johnson will speak in a post-performance discussion. Find out more here.