Date:
Saturday, July 25, 2020 -

1:00pm

to

5:00pm
Location:
Tukwila Village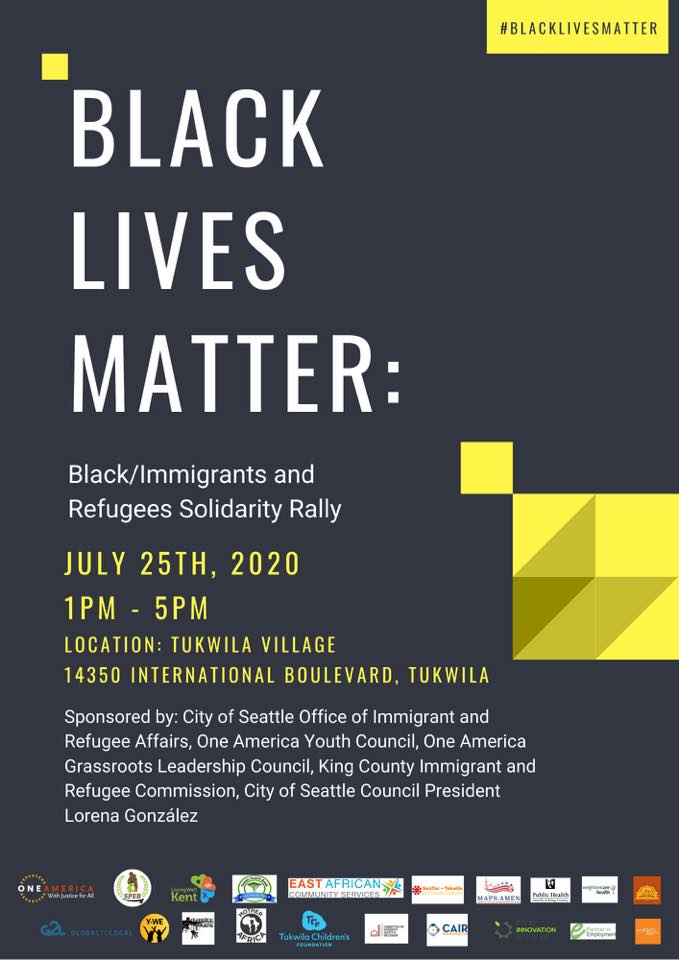 What: Black Lives Matter: Black/Immigrant and Refugees Solidarity Rally
Where: We will meet up at Tukwila Village Community Development Association, 14350 Tukwila International Blvd, Tukwila WA 98168 and march approximately 1.5 miles to 3037 S 160th St SeaTac, WA 98188
When: Saturday, July 25th, 1 PM
Please RSVP here for further details.
https://forms.gle/J72d7fDNpbnpAdnX9
As we are impacted in varied ways by the intersecting crises of racism and a pandemic, we hope you all are finding spaces for reflection and connection during these intense times.
In reflecting on the systemic racial injustice in this country, many of us are leaning in as Black/Immigrants and refugees and engaging in an important internal work, unpacking and exploring our own anti-Blackness sentiments within our respective communities. We have some unlearning to do. We are also aware that some of us live at the intersection, but anti-Blackness lives within us too.
We hope that you join us at this Black Lives Matter: Black/Immigrants and Refugees Solidarity Rally. This is the beginning of a series of events we will be engaged in to sustain the movement so that we realize our collective liberation.
Public Health-King County has joined our Black Lives Matter: Black/Immigrants/Refugees Solidarity Rally.They will have a number of mental health therapists and resources on-site and provide:
30 minute "Check-in" conversations with a mental health provider
Confidential
1:1 virtual support
1:1 in-person support
Referrals to mental health support
Have you RSVP'd yet?!
**Safety**
Covid-19 is still real. If you're healthy and able, we look forward to seeing you Saturday, July 25th. Please keep yourself and those around you safe! Use hand sanitizer and wash your hands with soap and water, frequently. Avoid touching your face, others, and close contact. Please wear a mask or a cloth to cover your nose and mouth.