News Release:
Monday, August 7, 2017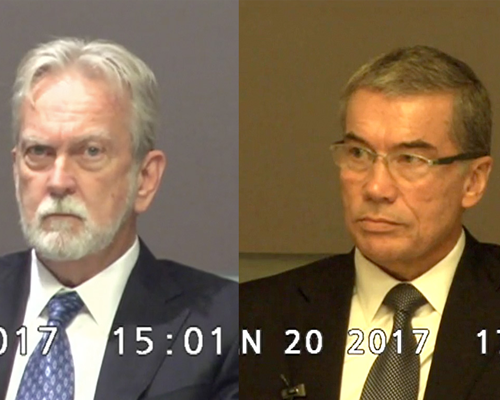 SPOKANE, Wash. — A federal lawsuit against the two psychologists who designed and implemented the CIA torture program cleared the final legal hurdle before a scheduled trial, a first for a case involving CIA torture.
The lawsuit was brought by the American Civil Liberties Union on behalf of Suleiman Abdullah Salim, Mohamed Ahmed Ben Soud, and the family of Gul Rahman, who froze to death in a secret CIA prison. They were tortured using methods developed by the CIA-contracted psychologists, James Mitchell and John "Bruce" Jessen.
Both sides had filed motions for summary judgement, which were argued last Friday in federal district court. At the hearing, Judge Justin Quackenbush denied the ACLU's motion and said he was inclined to deny the psychologists' motion to end the case also, but he did not definitely make a ruling that day. Today in a written opinion, the judge denied the psychologists' motion. The ruling means the case is scheduled to go to trial on September 5 and expected to last two to three weeks.
"This is a historic day for our clients and all who seek accountability for torture," said ACLU attorney Dror Ladin, who argued in court last week. "The court's ruling means that for the first time, individuals responsible for the brutal and unlawful CIA torture program will face meaningful legal accountability for what they did. Our clients have waited a long time for justice."
Mitchell and Jessen helped convince the CIA to adopt torture as official policy, making millions of dollars in the process. They devised torture methods inflicted on the three men including slamming them into walls, stuffing them inside coffin-like boxes, exposing them to extreme temperatures, starving them, inflicting various kinds of water torture, and chaining them in stress positions designed to inflict pain and to keep them awake for days on end.
In their latest
brief
, Mitchell and Jessen cited in their defense the post-WWII case of the contractor who manufactured and supplied the Nazi government with Zyklon B, the poison gas used in death camps. More on that surprising tactic is detailed in a
blog post by Ladin
.
Until now, every lawsuit trying to hold people accountable for the CIA torture program has been dismissed before reaching the merits, because the government successfully argued that letting the cases proceed would reveal state secrets. But unlike in previous cases, this time the Justice Department did not argue that the state-secrets privilege supported dismissal of the lawsuit.
The plaintiffs include the family of Gul Rahman, who died because of torture. He was an Afghan refugee living in Pakistan with his wife and their four daughters, making a living selling wood to fellow residents of their refugee camp. An autopsy and internal CIA review found the cause of death to be hypothermia caused "in part by being forced to sit on the bare concrete floor without pants" with contributing factors of "dehydration, lack of food, and immobility due to 'short chaining.'" The family has never been officially notified of his death, and his body has never been returned to them for burial.
Another plaintiff is Suleiman Abdullah Salim, a fisherman from Tanzania. The U.S. military released him over five years after his abduction with a letter acknowledging that he poses no threat to the United States. He now lives in Zanzibar with his wife and his young daughter.
The third plaintiff is Mohamed Ahmed Ben Soud. He fled his native Libya in 1991, fearing persecution for his opposition to Muammar Gadhafi's dictatorship. In 2003, Ben Soud was captured in a joint U.S.-Pakistani raid on his home and sent to two secret CIA prisons, where he was held and tortured for over two years. Ben Soud saw Mitchell in the first of these prisons, later identifying him as a man present in a room where CIA interrogators were torturing him by forcibly submerging him in ice water. Ben Soud was freed in 2011 after Gadhafi was deposed, and he now lives with his wife and three children.
In addition to torturing prisoners themselves, Mitchell and Jessen trained other CIA personnel in their methods. In 2005, they founded a company — Mitchell, Jessen & Associates — that the CIA contracted with to run its entire torture program, including supplying interrogators and security for black sites and rendition operations. Mitchell and Jessen admitted as part of this lawsuit that the government paid the company $81 million over several years. The CIA let Mitchell and Jessen themselves evaluate the effectiveness of their torture in "breaking" detainees, and the agency has since admitted that this was a mistake.
According to Mitchell and Jessen's theory, if humans were psychologically destroyed through torture and abuse, they would become totally unable to resist demands for information.
The CIA adopted Mitchell and Jessen's proposals, and in August of 2002, the agency secured Justice Department authorization in the so-called "torture memos," which were later rescinded by the Justice Department.
The lawsuit was filed in federal court in Washington State, where Mitchell, Jessen & Associates was based and where Jessen still lives. The plaintiffs are suing Mitchell and Jessen under the Alien Tort Statute — which allows federal lawsuits for gross human rights violations — for their commission of torture; cruel, inhuman, and degrading treatment; non-consensual human experimentation; and war crimes.
The attorneys representing the plaintiffs are Ladin, Hina Shamsi, and Steven Watt of the ACLU; Emily Chiang of the ACLU of Washington; and Lawrence Lustberg, Kate Janukowicz, Daniel McGrady, and Avram Frey of the law firm Gibbons PC; and Paul Hoffman of Schonbrun Desimone Seplow Harris & Hoffman LLP.
More information and all case documents are here:
https://www.aclu.org/cases/salim-v-mitchell-lawsuit-against-psychologists-behind-cia-torture-program
The ruling can be found here:
https://www.aclu.org/legal-document/salim-v-mitchell-memorandum-opinion-re-motions-summary-judgment
Photos of the plaintiffs and defendants for press use are here:
https://www.dropbox.com/sh/1u48invqaxeji5t/AACtreHhompyNo4uEQTopS2fa