News Release:
Wednesday, October 21, 2015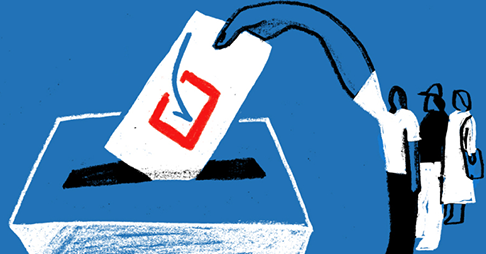 OLYMPIA—Individuals now have a much improved opportunity to register to vote when they sign up for public benefits, thanks to efforts made by the state Department of Social and Health Services (DSHS) to improve compliance with the National Voter Registration Act (NVRA).

"Access to voting is a cornerstone of democracy," said Nancy Talner, staff attorney for the ACLU-WA. "We are pleased DSHS took swift action to uphold the NVRA, avoiding costly litigation that has occurred in other states."

"Changes made by DSHS have strengthened democracy by enhancing access to voting for thousands of people in Washington state," said Rick Eichstaedt, executive director of Spokane's Center for Justice.

Although best known as the "motor voter law," the NVRA was designed to reduce demographic gaps in voting by making voter registration more accessible in a variety of ways. Among them: requiring states to offer an opportunity to register to vote whenever someone applies for public benefits, renews benefits or submits a change of address to an agency that provides public assistance.

Until recently, DSHS's Community Services Division had not offered the opportunity to register to vote as often as the law required, and had not consistently recorded and/or reported when the opportunity was offered, despite the fact that the recession prompted more people to seek benefits from the agency.

After the Center for Justice and ACLU-WA raised the issue with DSHS in 2014, the agency agreed to improve its compliance with the NVRA. In fact, DSHS was already in the process of making improvements as the result of an internal audit it had performed earlier that year. Since then, DSHS has ensured 100 percent of staff in its Community Services Division received training on the requirements of the law, and changed its computer system and paper forms so that workers are always reminded to offer a voter registration opportunity, regardless of whether the contact with the client is online, over the phone or in person.

The percentage of DSHS Community Services Division clients who were offered voter registration assistance increased from 29 percent in January 2014 to 92 percent in August 2015. As the newly adopted technology and reporting systems are implemented, officials expect that number to continue to rise.

"The changes made will help increase the number of historically disenfranchised people who are registered to vote," said Nancy Talner. "Citizens have a right to make their voices heard by registering to vote and voting. We appreciate the state's efforts to make this right a reality for those who too often have not had a voice in elections."

"Ensuring that our clients have the opportunity to register to vote lets us assist people with exercising that fundamental right," said DSHS Assistant Secretary David Stillman. "It's also an integral part of our agency's mission to transform lives."

As this year's important election for local offices approaches in November, the time is right to increase awareness about the state's efforts to extend the opportunity to vote to everyone who is eligible. Voters still have time to register in person for this year's election; the deadline is Monday, Oct. 26, 2015.