News Release:
Thursday, August 7, 2014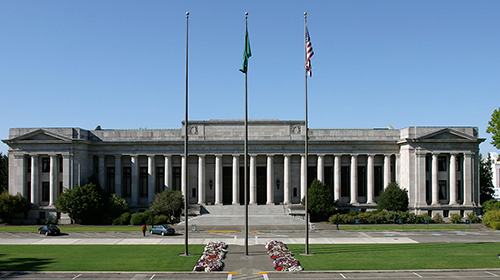 The Washington State Supreme Court has ruled unanimously that warehousing individuals with mental illness in hospital emergency rooms where they do not get the mental health treatment they need violates state law.
In a case (In re Detention of DW) arising out of Pierce County, the state and county had argued the practice, known as "psychiatric boarding," was occurring because of the lack of available certified psychiatric treatment beds. Following reasoning similar to that in a friend-of-the-court brief submitted by Disability Rights Washington (DRW), the National Alliance on Mental Illness Washington (NAMI), and the ACLU of Washington, the Court rejected that justification. The Court found that the government's authority to use civil commitment for mental health treatment purposes carries with it the obligation to meet patients' constitutional rights to receive individualized treatment.
"The government would have you believe there are only two options – leave people with mental illness on the street with no treatment or lock them in a local emergency room with no treatment," said Emily Cooper, staff attorney with Disability Rights Washington. "That simply isn't true. Consistent with public safety concerns, the law requires that when someone is detained in order to deliver treatment, adequate treatment must be delivered."
"The Court rightly recognized that when the government deprives someone of their liberty, the government's failure to provide adequate funding does not allow it to violate the law and constitutional rights," said Jennifer Shaw, Deputy Director of the ACLU-WA.
"This ruling addresses a problem coming from a broken mental health system. Washington needs to focus on helping individuals when mental health problems first arise, not just when they have a crisis and go to the emergency room."
At oral argument, the state's Department of Social and Health Services said they were creating additional psychiatric treatment beds. Disability Rights Washington is contacting the agency regarding their plan to address these significant gaps in providing constitutionally appropriate mental health services in light of this decision.
"This is a step in right direction," says Sandi Ando, NAMI Washington's Public Policy Committee Chair. "The result of this decision should be that people with people with mental health needs get more, not less treatment. We need to remain vigilant to ensure that the correct actions occur now."