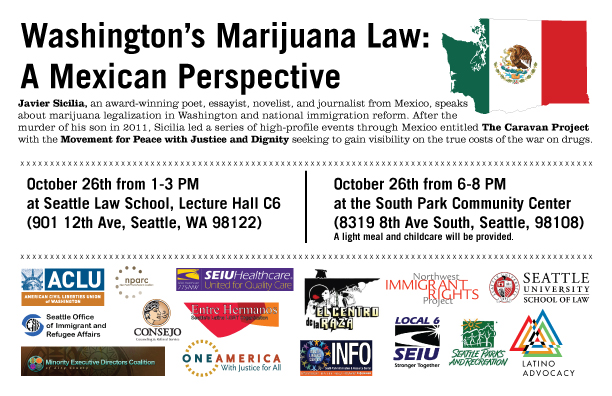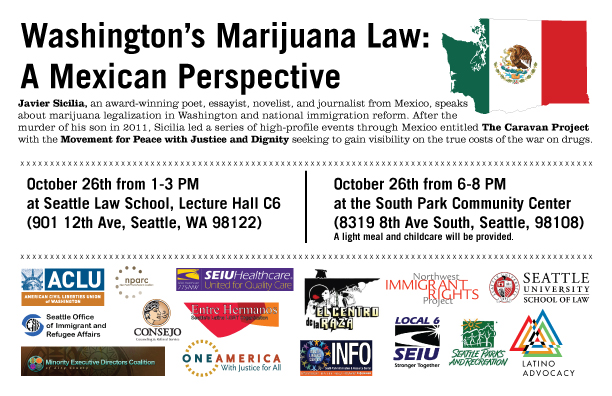 On October 26 the ACLU of Washington will present two special events featuring Mexican poet and activist Javier Sicilia. An award-winning author and leader of 2011's "Caravan for Peace" against the international drug war, Sicilia will speak about the potential impacts of Washington's new marijuana law in Mexico and other Latin American countries, as well as new perspectives on immigration reform.
In the last six years, an estimated 70,000 people have died in violence related to Mexico's ongoing drug war, including Sicilia's own son. These events will offer an international perspective on Washington state's new marijuana law through the eyes of a victim of the brutal violence perpetrated by the drug cartels. It will be a unique educational opportunity and rich cultural experience. Join us.
Afternoon Event
October 26 from 1 to 3 PM
Seattle Law School, Lecture Hall C6 (901 12th Ave, Seattle, WA 98122)
Evening Event
October 26 from 6 to 8 PM
South Park Community Center (8319 8th Ave South, Seattle, 98108)
Events are free and open to the public.
Sponsored by:
ACLU of Washington State
Global Exchange
The Stranger
Seattle University School of Law
Seattle Parks and Recreation
South Park Information & Resource Center
Consejo
Entre Hermanos
El Centro de La Raza
One America
Minority Executive Directors Coalition (MEDC) of King County
Seattle Office of Immigrant and Refugee Affairs
Latino Advocacy – Maru Mora Villapando
SEIU Healthcare 775 NW
Northwest Immigrant Rights Project
Service Employees International Union (SEUI) Local 6
Non-Profit Anti-Racism Coalition