Published:
Friday, October 14, 2016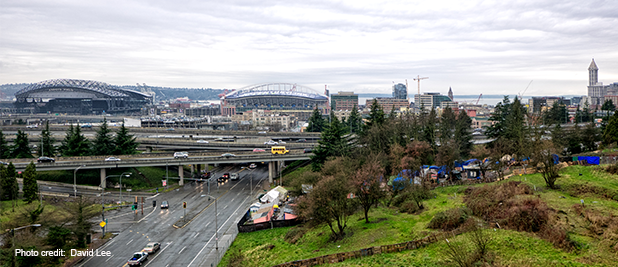 While the City moves to develop sustainable, long-term solutions to the homelessness crisis, it must also abandon the ineffective, inhumane policy of chasing Seattle's homeless population from place to place. Seattle currently lacks adequate housing for the number of individuals living outdoors.  People will live outdoors because they have no choice.  The question in the short term is whether they will be chased from place to place and lose their few, small but precious possessions or be given some dignity and fair treatment while living outside. 
The ACLU doesn't promote people camping in parks. Or under a bridge. Or in a greenbelt.  Unfortunately, that's exactly what is happening in Seattle right now. More than three thousand people are currently living outdoors, and this number has been building for years. The January 2016 One Night Count showed a 19 percent increase in the number of people living outdoors. 
The ordinance before the Seattle City Council is designed to address this reality head-on. The need for action is urgent. Wet, windy, and turbulent weather is coming this weekend; people living outdoors will be hit hardest by it. Seattle must act to reverse this inhumane cycle, so that people living outdoors have a real chance to move inside—for good.
The persistent growth in homelessness is evidence that Seattle's current policy of sweeping unsheltered people and their belongings has failed. No one disputes this. Likewise, attempts by the City to push visible homelessness and poverty from public view, such as its Nine-and-Half Blocks program for downtown and sweeps of the East Duwamish Greenbelt, have exacerbated these problems. 
Councilmember O'Brien's current ordinance before the Council is a compromise measure that incorporates the concerns expressed by business leaders, neighborhood representatives, advocates, and elected officials. It creates priorities for the City and provides clarity around where Seattle's 3,000 unsheltered residents can and cannot camp. Unacceptable places include schools, improved park land, and sidewalks in front of residences and businesses. When someone is camping in an acceptable location, however, that person is allowed to stay until the City can provide a path out of homelessness. This path must include housing, services, and outreach, which have been proven to break the cycle of homelessness.

Yesterday, the Department of Justice released a comment on the ordinance (CB 118794), supporting what its advocates have long been saying: "Too often, local jurisdictions have tried to simply move people experiencing homelessness to another area, without crafting more effective  and systemic policy solutions that implement a Housing First Response to addressing the problem of homelessness." The Justice Department's comment is an important reminder that the Constitution applies to everyone, regardless of whether they have a home.
Seattle must also refrain from punishing people simply for being poor. The DOJ comment builds on an earlier DOJ statement explaining that cities that prosecute people who are homeless for sleeping or camping in public places when there is insufficient shelter space violate the Eighth Amendment prohibition on cruel and unusual punishment.
By neglecting to adequately address the crisis of homelessness, Seattle has made it impossible to miss.