Published:
Thursday, December 6, 2012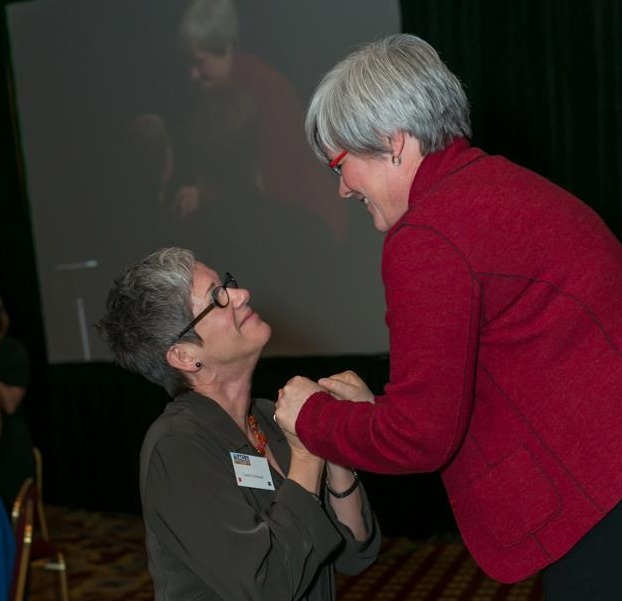 Love and equality won nearly 54% of the vote in Washington on November 6th. In approving Referendum 74, the voters recognized that all committed, loving couples, gay and straight alike, should be able to marry under state law. And on December 9th same-sex couples were able to take matrimonial vows in homes and courthouses across our state for the first time!
Reaching this victory has been quite a journey as people have traveled from fear and discrimination to acceptance and support. It was more than 40 years ago, in 1971, that a gay couple, John Singer and Paul Barwick, first challenged King County's denial of their application for a marriage license. They came to the ACLU-WA, and we took their case all the way to the Washington Supreme Court. Although the Court wasn't ready to accept same sex marriage, John and Paul blazed a trail others would follow. It is rough to be a trailblazer. Singer lost his job at the Seattle office of the Equal Opportunity Employment Commission, of all places, for simply publicly advocating for marriage equality. The ACLU took that case, too. It went all the way to the U. S, Supreme Court, which ordered a re-hearing, and in 1978, Singer was reinstated with full back pay!
Also in the '70s, we fought for the right of gay parents to maintain custody of their children, a right that was upheld by the Washington Supreme Court upheld (Schuster v. Schuster) in 1978. Washington was an "early adopter," years before other states saw the light. Still the state Supreme Court was not ready for marriage equality even in 2004 when we filed suit (Castle v. State) for 11 same-sex couples around the state. While the Thurston County Superior Court ruled for the right to marry, it was reversed 5-4 by the state Supreme Court.
Finally this year, as a founding member of Washington United for Marriage, the successful campaign to Approve Referendum 74 to retain the state's marriage equality law, the ACLU enjoyed seeing the people of Washington endorse the right that John and Paul fought for decades ago.
Not long afterward, the owner of the shop where the ACLU gets its annual awards framed for our annual dinner told me, as he tore up our bill, that on the day that R-74 was victorious, his partner of more than 20 years proposed to him. "Thank everyone back at the office for all their work to make our wedding possible," he said. And when the Civil Libertarian Award that he framed was presented to Major Margaret Witt at the Bill of Rights Dinner, she proposed on the spot from the stage to her partner Laurie Johnson. They were married in December.
Let's raise a toast in celebration of love and equality! A toast to the thousands of loving couples across the state are now able to publicly proclaim their commitment to one another – and look forward to a bright future together – legally married.
And, let's also raise a toast to the many leaders in our community who championed the freedom to marry for years. And to our champions in the state legislature who tirelessly pursued the issue until it gained passage. And to business leaders, faith leaders, and leaders from communities of color who stood publicly in support of marriage equality. And to the thousands of volunteers – gay and straight – who donated millions of hours to make calls, knock on doors, and have courageous conversations with their neighbors about the importance of marriage to all loving couples.
Thank you to everyone that this tremendous achievement possible. To love and equality!